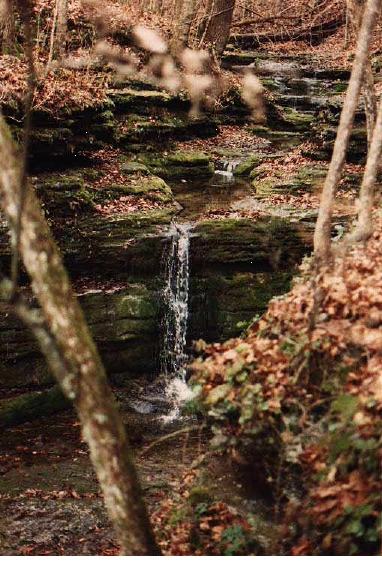 The Clyde E. Buckley Sanctuary encourages native flora and fauna, and provides an active educational program. Thousands of students, teachers, and families attend presentations every year, or take a leisurely stroll among these pleasant rural surroundings.
The Sanctuary consists of 374 acres along the Kentucky River, in both Woodford and Franklin Counties. Habitats include approximately fifty acres of fields, and two ponds surrounded by mixed-mesophytic forest on the transition zone between northern and southern flora and fauna. A gorge bisects the area and the subsurfaces are limestone and rich in minerals and fossils.
This Sanctuary is currently managed by the Life Adventure Center.
Sanctuary and Society History
The property for the Clyde E. Buckley Wildlife Sanctuary was set aside by Mrs. Emma Buckley in 1967 as a memorial to her late husband. A board was established to make long-range plans for its perpetuation, and the sanctuary was to be managed by the Kentucky Audubon Society (KAS).
KAS ran a series of surveys to evaluate and catalog the geographical features, as well as the flora and fauna of the area. Mrs. Buckley agreed to restore the two-story house on the property, to be used as a headquarters, museum, and educational center. She asked that one of the existing ponds be enlarged, and also asked Ray Harm to look over the property and make recommendations, which he did.
By January 1967, road construction to the sanctuary was underway. KAS did not agree to accept responsibility for the sanctuary until Society membership was sufficient to ensure future support. Ray Harm donated several prints for the initial membership drive, and the sanctuary also relied on income from a five-acre tobacco base. Plans for the development of the property were entrusted to Mr. Harm and Wood Hannah, Sr.
In April 1967, a landmark was reached when Ellwood Carr became the first curator of the wildlife sanctuary. Mrs. Wallace Campbell, an ornithologist, and Ms. Page Dunlap combined forces to start a local National Audubon Society chapter with members from nine of the ten counties we still serve today. The first meeting of the Buckley Hills Audubon Society was held on October 26, 1967. Officers and a Board of Directors were elected the next month.
In February 1969, the Buckley Hills Audubon Society received its charter - and we were off and flying!!!

The National Audubon Society oversaw the Sanctuary until June 2013 when Tim Williams, Sanctuary manager of over thirty-eight years, retired. In July of 2013, Life Adventure Center from Versailles assumed oversight of the area. For Sanctuary map and info click here.

In 2014, the Buckley Hills Audubon Society officially changed its name to the Central Kentucky Audubon Society to more accurately reflect the area we represent.